---
List of Potential Nuclear Theory Collaborators
In order to support the experimental program at FRIB right from the start, the FRIB TA Executive Board (TA-EB) has compiled a list of theorists who are willing to provide their expertise to experimental groups. Theorists can contribute to successful proposals and experiments by providing background information, suggesting experts who can address specific questions, and by collaborating directly. In turn, experimentalists can support theorists by incorporating and acknowledging the input, as well as by including them in proposals and collaborative work beyond. All users of the list are expected to use the information therein solely for the purpose of scientific discussion and collaboration. Any concerns should be reported to the Theory Alliance Executive Board.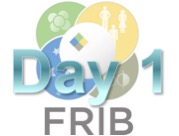 The most up-to-date list can be downloaded here:
---
Announcing the FRIB Theory Alliance Fellows of 2021
The FRIB Theory Alliance conducted a search for two new FRIB theory fellows in the Fall of 2020. The search committee received many excellent applications and selected a shortlist of seven. The interviews took place in the beginning of December 2020. Following the recommendation of the search committee Nicole Vassh and Xilin Zhang will become our two new FRIB theory fellows. Nicole will be hosted by Ohio University and Xilin will be hosted by Michigan State University. Please join the FRIB-TA in congratulating Nicole and Xilin and wishing them a successful stay at OU and MSU.
U.S. Department of Energy designates FRIB as DOE Office of Science user facility
The U.S. Department of Energy has designated the Facility for Rare Isotope Beams at Michigan State University as an Office of Science user facility. U.S. Secretary of Energy Dan Brouillette announced the designation at a special ceremony held outdoors at MSU, under a tent adjacent to FRIB.
The university is establishing FRIB under a cooperative agreement with the DOE Office of Science, supporting the mission of the Office of Nuclear Physics. FRIB will enable scientists to make discoveries about the properties of rare isotopes (short-lived nuclei not normally found on Earth), nuclear astrophysics, fundamental interactions and applications for society, including in medicine, homeland security and industry. More than 1,400 scientific users are poised to conduct research at FRIB when user operation commences in early 2022.
For more information visit MSU Today
Paul Gueye, The (Hidden) Shades of Physics - Perspectives of being a Black Physicist
Paul Gueye, Associate Professor of Physics at Michigan State University National Superconduction Cyclotron Laboratory shares The (Hidden) Shades of Physics - Perspectives of being a Black Physicist
Results of elections for the FRIB-TA board
The elections results are in and Jonathan Engel (University of North Carolina at Chapel Hill), Amy Lovell (Los Alamos National Laboratory), Daniel Phillips Ohio University) and Kate Jones (University of Tennessee, Knoxville) have been selected to serve this time. Please join us in extending our gratitude for their willingness to serve.
FRIB-TA Bridge faculty appointment at North Carolina State University
Dr. Sebastian Koenig initiated his Assistant Professor appointment in Jan 2020 at North Carolina State University, Department of Physics. This is the third bridge faculty appointment under the FRIB-TA Bridge Program.
Third FRIB Theory Bridge Faculty Position Host Institution Selected
Florida State University has been selected as the host of the third FRIB Theory Bridge Faculty position. All of the proposals were strong and we thank the applicants for their diligent efforts in preparing the submissions. Please join me in congratulating our FL-State colleagues. Details about the FRIB Theory Bridge program and procedures are given: here.
FRIB Theory Alliance EUSTIPEN Program - The EUSTIPEN program has been suspended due to travel restrictions with COVID-19. Please check back when global travel resumes.
EUSTIPEN Mission: The Europe-U.S. Theory Institute for Physics with Exotic Nuclei (EUSTIPEN) has been established in order to facilitate collaborations between U.S.-based and Europe-based scientists whose main research thrust is in the area of the physics of nuclei. U.S. participation in EUSTIPEN is in the form of travel grants and subsistence grants to ECT* in Trento to those individuals who are interested in collaborating with European scientists. EUSTIPEN's purview is in the area of physics of or with exotic nuclei, including nuclear structure and reaction theory, nuclear astrophysics, and tests of the standard model using exotic nuclei. Funding for EUSTIPEN is being provided through the FRIB Theory Alliance by the Office of Nuclear Physics of the U. S. Department of Energy.

If you have an interest in forging new or continuing collaborations with European colleagues, this travel grant is for you. Students and postdocs are encouraged to apply.

For additional information regarding EUSTIPEN click here.
---
FRIB theory fellow has accepted staff position at LLNL

Dr. Gregory Potel, an FRIB theory fellow from 2016 to 2019, has accepted a staff position in the Nuclear Data and Theory Group at Lawrence Livermore National Laboratory. His research is on low-energy reaction theory and he intends to continue being involved with FRIB theory alliance activities. Congratulations Gregory!